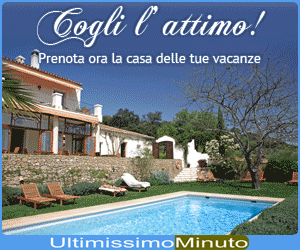 In questo articolo vogliamo presentare UltimissimoMinuto, giovane ma già lanciatissimo portale specializzato negli affitti turistici Last Minute. Fanno parte di UltimissimoMinuto quasi diecimila strutture, omogeneamente distribuite in tutta Italia, tra bed and breakfast, agriturismi, case vacanze ed hotel.
Una delle caratteristiche più interessanti di UltimissimoMinuto è la possibilità di contattare le strutture turistiche e di parlare direttamente con il proprietario prima di effettuare la prenotazione. D'altra parte, vorremo ben sapere in casa di chi andiamo, o no?
Le sezioni tematiche
Come abbiamo detto, molteplici sono le tipologie di strutture che è possibile contattare su UltimissimoMinuto. In particolare, UltimissimoMinuto ci propone le categorie:
Volendo trovare un difetto, in alcune circostanze non ci sono molto chiari i criteri con cui è stata effettuata la suddivisione per categorie (ad esempio, 'agriturismi' che dovrebbero stare tra i 'bed and breakfast' e viceversa) ma tutto sommato ci sembra una pecca perdonabile.
Come il nome stesso suggerisce, il punto forte di UltimissimoMinuto sono i Last Minute, che sono disseminati in grande evidenza un po' ovunque. Ma non solo Last Minute: ci sono infatti anche i First Minute, per chi preferisce prenotare con grande anticipo. Molte strutture, poi, offrono gli sconti UltimissimoMinuto, ma attenzione: se ne può usufruire solo citando la parola magica "UltimissimoMinuto" al telefono.
Per finire, troviamo di un certo interesse anche la sezione eventi (molti dei quali segnalati dalle strutture stesse).
Può interessare ai gestori delle strutture turistiche sapere che UltimissimoMinuto offre 6 mesi di pubblicità gratuità; non poco, in questi tempi di crisi.